Show Outlook tasks, calendar items, and text notes together on one calendar.
Would you like to view your Outlook tasks in a Calendar format, and together with your appointments and meetings? This app runs alongside Outlook and shows you your tasks and calendar items in one place.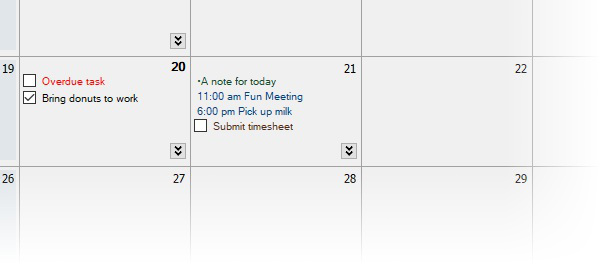 Eliminate Switching Between Outlook Calendars and Tasks
Frustrated by having to constantly switch between your Calendar and Tasks in Outlook? Pandali Calendar shows you your tasks and appointments in one place, one calendar.
Open and Create Items
You can easily open your Outlook items from Pandali Calendar. And quickly right-click to create new tasks, appointments, and meetings. You can also create simple text notes.
30-Day Free Trial
There is a 30-day free trial. This is the full version - nothing is disabled. After 30 days from first run, the product will disable itself, but simply click the Buy button above to purchase and then use for an unlimited time.